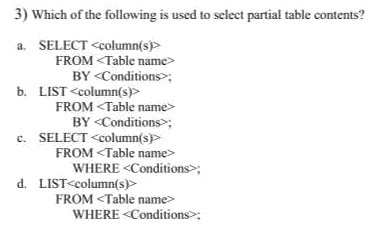 3) Which of the following is used to select partial table contents? a. SELECT FROM Table name BY BY FROM
WHERE
; d. LIST

Correct Answer is Option(C) SELECT
FROM
WHERE

Explanation:
In SQL, we dont have keyword LIST. SO options(b) & (d) are
eliminated.
And we have keyword BY in SQL, but it used only at ORDER BY not
separately. So we can eliminate option(a).
for conditions we only make use of WHERE and to display columns
we make use of SELECT. These 2 keywords are present in Option(C).
So this is the correct answer.
So the final answer is Option(C).
Mention in comments if any mistakes or errors are found.
Thank you.