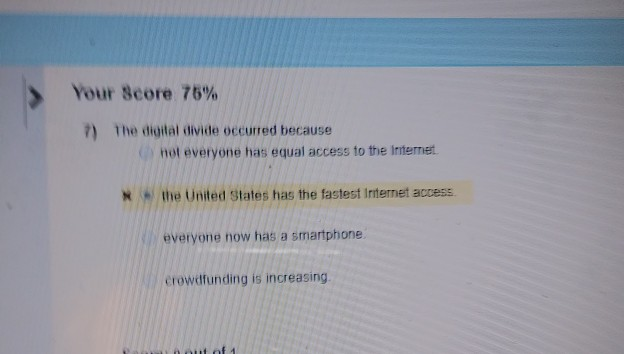 Your Score: 75% 1) Which is NOT an event associated with the beginning of the internet? The first e-mail program was written by Ray Tomlinson, TCP/IP protocol was developed that allowed different computers to communicate with each other Amazon.com was one of the first websites on the Internet. * The U.S. Department of Defense creates ARPA Your Score 76% 7) The digital divide occurred because not everyone has equal access to the internet the United States has the fastest Internet access everyone now has a smartphone crowdfunding is increasing a le si 17) When the following is an am Bluray disc Intemal hard disk CPU Motherboard Score: 0 out of 1 19) Where does the computer store instructions and data that are used most often by the CPU? Read only memory X Hard drive Cache memory Video RAM
1) Amazon.com was one of first websites in
internet.
amazon is not an first internet website
7) not everyone has equal access to
internet
17) Blu-ray disc
it is a portable storage
19) cache memory
cache memory is very fast and expensive.