please help with all. pleaseeeee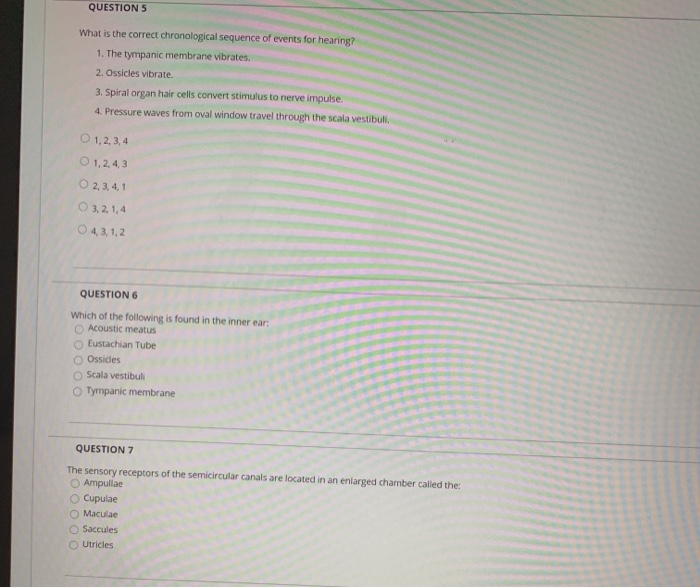 please help with all. pleaseeeee QUESTION 5 What is the correct chronological sequence of events for hearing? 1. The tympanic membrane vibrates. 2. Ossicles vibrate. 3. Spiral organ hair cells convert stimulus to nerve impulse. 4. Pressure waves from oval window travel through the scala vestibuli, O 1,2,3,4 1,2,4,3 O2,3,4,1 O 3, 2, 1,4 4,3,1,2 QUESTION 6 Which of the following is found in the inner ear: Acoustic meatus Eustachian Tube Ossicles Scala vestibuli Tympanic membrane QUESTION 7 The sensory receptors of the semicircular canals are located in an enlarged chamber called the: Ampullae Cupulae Maculae Saccules Utricies
5. The answer is
1,2,4,3
The sound waves travel from the
outer ear (the tympanic membrane vibrates) to the middle ear
(ossicles vibrate), (pressure waves from the oval window travel
through the scala vestibuli which is located in the inner ear) and
this wave form of energy is transmitted to the inner ear (spiral
organ hair cells convert stimuli to nerve impulse). The inner ear
converts the wave energy into electrical stimuli and sends that to
the auditory centers of the brain.
6. The answer is
scala
vestibuli.
        
The scala vestibuli is a fluid filled
cavity inside the cochlea which is part of the inner
ear.
Acoustic meatus – outer
ear.
Eutacian tube and ossicles – middle
ear.
Tympanic membrane divides the
external ear from the middle ear.
7. The answer is
Ampullae
               The
ampullae is an enlarged chamber located at the base of each
semicircular canal and it contains the sensory receptors. The
cupulae is located within the ampulla and it has hair cells for
detection of the stimuli. The utricle and saccule are parts of the
vestibule of the inner ear involved in maintaining balance. The
macules are the hair cell lining in the vestibuli for detecting the
changes of movement.
Latest posts by Answer Prime
(see all)