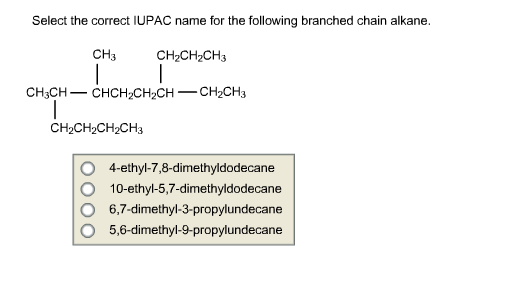 Select the correct IUPAC name for the following branched chain alkane.
General guidance
Concepts and reason
IUPAC stands for the international union of pure and applied chemistry. IUPAC nomenclature is a standardized method for naming the organic compounds. IUPAC name consists of three parts; root word, suffix, and prefix.
Fundamentals
IUPAC name consists of three parts namely, Prefix, root name and suffix.
• Prefix: The prefix is the substituent (usually an alkyl group) attached to a carbon atom of the longest chain.
• Root word: It represents the longest carbon skeleton in a molecule.
• Suffix: It indicates the presence of functional groups if any (Ex: ane is used for alkane, ene is used for alkene, yne is used for alkyne). If a molecule consists of a functional group like CHO, COOH, OH, then al, oic acid, and ol should be used as a suffix.
Naming pattern of IUPAC name is,
Step-by-step
Step 1 of 3
Root word is "dodec".
Longest carbon skeleton is identified by assigning a number to the carbons in the molecule. Numbering should be given in such a way that the carbon which is substituted should get the lowest possible number. The longest chain has twelve carbons. Hence, root word is "dodec".
Care should be taken while assigning a number to the carbon atoms.
Example: The following is a wrong way of numbering the longest chain.
Identify the substituents present on the longest carbon chain.
Step 2 of 3
The given molecule with substituents is labeled below.
The prefix of the structure is
Substituents present on the longest chain can be an alkyl group or other hetero atoms. These groups are bonded to the carbon atom by replacing hydrogen atoms. The substituents are methyl, ethyl groups. Therefore, these two groups can be prefixed using the number given based on priority. Prefix should be in alphabetical order.so,the substituent follows alphabetical order. In this, ethyl group is at the 4th carbon, two methyl groups at 7th and 8th carbon of the longest chain. Hence, the prefix of the given molecule can be
The prefix of the compound cannot be written in the following form.
Look for the presence of unsaturation before giving suffix to the given molecule.
Step 3 of 3
The suffix is "-ane".
The correct IUPAC name for the following branched chain alkane is given below:
The given molecule does not contain any unsaturation (double bond and triple bond).All the C-C bonds are singly bonded (saturated carbons). Therefore, the suffix that should be used here is "ane"and the IUPAC name of the given molecule is 4-ethyl-7,8-dimethyldodecane.
Answer
The correct IUPAC name for the following branched chain alkane is given below:
Answer only
The correct IUPAC name for the following branched chain alkane is given below:
Prefix + rootname + suffix
H2H2 -C— C—CH3 10 11 12
CH3 Həc—C—CHz
methyl methyl (H19c=8_CH_ome Shop 4 02-ch, ethyl H2 – CH3 9 10 11 12
"4-ethyl – 7,8-dimethyl"
"4-ethyl – 7,8-dimethyl"
"4-ethyl – 7,8-dimethyldodec"
CH3 Həc—C—CHz
| | |
| --- | --- |
| ¤ | 4-ethyl-7,8-dimethyldodecane |
| ¡ | 10-ethyl-5,7-dimehyldodecane |
| ¡ | 6,7-dimethyl-3-propylundecane |
| ¡ | 5,6-dimethyl-9-proplundecane |
| | |
| --- | --- |
| ¤ | 4-ethyl-7,8-dimethyldodecane |
| ¡ | 10-ethyl-5,7-dimehyldodecane |
| ¡ | 6,7-dimethyl-3-propylundecane |
| ¡ | 5,6-dimethyl-9-proplundecane |
| | |
| --- | --- |
| ¤ | 4-ethyl-7,8-dimethyldodecane |
| ¡ | 10-ethyl-5,7-dimehyldodecane |
| ¡ | 6,7-dimethyl-3-propylundecane |
| ¡ | 5,6-dimethyl-9-proplundecane |