Select the choice that best describes the relationship of the
following pair of compounds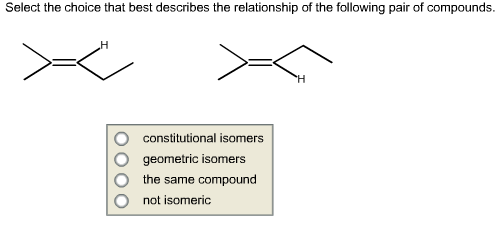 Select the choice that best describes the relationship of the following pair of compounds. O constitutional isomers O geometric isomers O the same compound O not isomeric
General guidance
Concepts and reason
Isomers are the compounds that have same molecular formula but different arrangement of atoms in space or different bonding between atoms. Two isomeric compounds have different physical and chemical properties.
Fundamentals
There are various types of isomers such as constitutional isomers, geometric isomers etc.
Constitutional isomers have different connectivity between atoms whereas geometrical isomers have different arrangement of atoms or groups across the double bond.
Step-by-step
Step 1 of 2
The structures of the two compounds are given below:
Understanding the bonding arrangement between the atoms is very important in order to determine the relationship between two molecules.
To determine the relationship between the two given structures, rotate the first structure by the angle of .
Step 2 of 2
Rotation of first molecule by the angle of , gives the second molecule.
The given two molecules are identical.
A molecule can be rotated around an axis in order to determine its relation with other molecules. In the present case, the first molecule gives the second molecule on rotation, which implies that both the molecules are identical.
Do not rotate the molecule about any axis. The axis should pass the double bond horizontally in order to rotate the molecule by the angle of .
Answer
The given two molecules are identical.
Answer only
The given two molecules are identical.
1800
constitutional isomers OO geometric isomers the same compound O not isomeric
constitutional isomers OO geometric isomers the same compound O not isomeric
We were unable to transcribe this image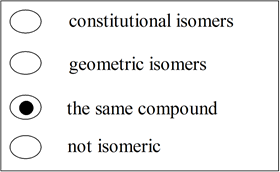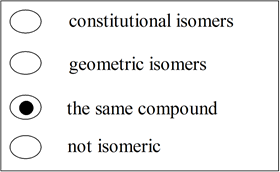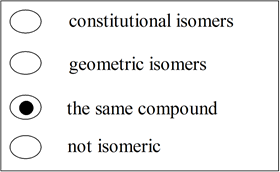 Latest posts by Answer Prime
(see all)