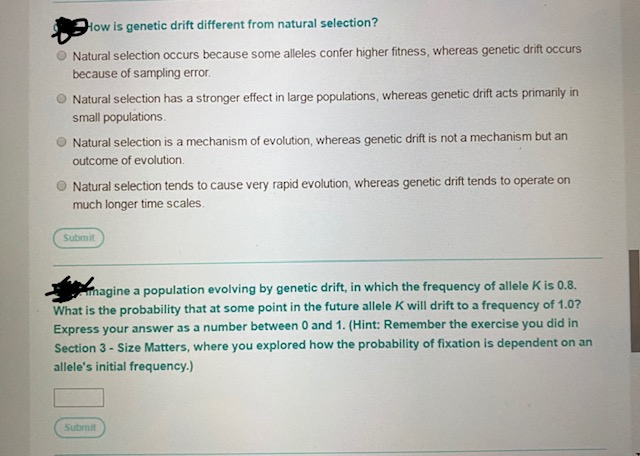 low is genetic drift different from natural selection? Natural selection occurs because some alleles confer higher fitness, whereas genetic drift occurs because of sampling error Natural selection has a stronger effect in large populations, whereas genetic drift acts primarily in small populations Natural selection is a mechanism of evolution, whereas genetic drift is not a mechanism but an outcome of evolution Natural selection tends to cause very rapid evolution, whereas genetic drift tends to operate on much longer time scales Submit thagine a population evolving by genetic drift, in which the frequency of allele K is 0.8. What is the probability that at some point in the future allele K will drift to a frequency of 1.07 Express your answer as a number between 0 and 1. (Hint: Remember the exercise you did in Section 3 – Size Matters, where you explored how the probability of fixation is dependent on an allele's initial frequency.) Submit
1) Option A) is correct if you have to choose 1 answer choice
only if you have to choose all that apply then you can include
option B) also.
Natural selection occurs because some genotypes are beneficial
in a current situation. They provide more fitness to its bearer and
thus is selected. Whereas sampling error occurs in genetic drift ,
out of random any one may be selected and freuency of that may be
increased.
It is right that natural selection have a larger role in large
populations , and genetic drift have a larger role to play or have
more effect on smaller populations.
2) 0.8. since genetic drift is the chance event it has equal
probabilty of making the allele go to frequency 1 or 0 , if starts
from equal ground of 0.5 frequency. But, if the initial frequency
is 0.8 , then the probability of the allele fixing is also 0.8.