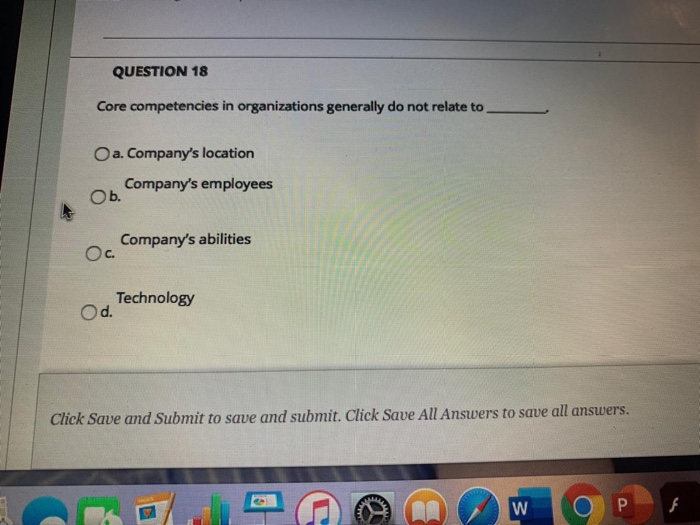 QUESTION 18 Core competencies in organizations generally do not relate to Oa. Company's location Company's employees Ob. Company's abilities Ос. Technology Od. Click Save and Submit to save and submit. Click Save All Answers to save all answers. W Р
Core competencies of an organisation do not relate to '
company's location'.
" Core Competency" is a deep
proficiency that enables a company to deliver unique value to
customers. It embodies an organisation's collective learning,
particularly of how to co-ordinate diverse production skills and
integrate multiple technologies.Core competencies diffferentiate an
organisation from its competition and create a company's
competitive advantage in the market place. Typically, a core
competency refers to a company's set of skills or experience in
some activity, rather than physical or financial assets.
A business activity must meet three
conditions to be a core competency; the activity must provide
superior value or benefits to the consumer, It should be difficult
for a competitior to replicate or imitate it and it should be rare.
Businesses can develop core competencies by identifying key
internal strengths and investing in the capabilities valued by
their customers.
In determining your company's core
competencies, identify the underlying skill, ability, knowledge,
experience, technology or process that enables your company to
provide its unique set of products or services.High performing
companies decelop new core competencies and expand their existing
ones to enter new and future markets. Company at this level of
functioning recognizes the needs and wants of customers in new and
develops the competencies necessary to meet those needs and
wants.
So, I concluded that, core
competencies of an organisation only relate to technology,
company's employees, company's abilities; does not related to
company's location.
Latest posts by Answer Prime
(see all)